'Avengers' Director 'Shocked' That Indonesia Has Made Cuts to His Film

Marvel StudiosIndonesia's Film Censorship Institute has announced on Saturday that it will be cutting seven minutes from "Avengers: Infinit…
'Avengers' Director 'Shocked' That Indonesia Has Made Cuts to His Film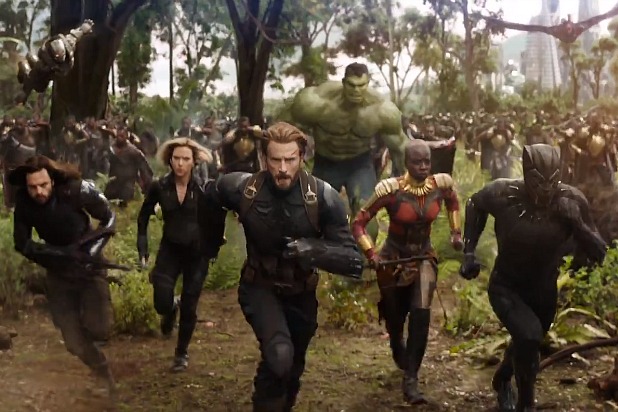 Marvel Studios
Indonesia's Film Censorship Institute has announced on Saturday that it will be cutting seven minutes from "Avengers: Infinity War," and the film's co-director Joe Russo is "taken aback."
According to the Jakarta Post and Kompas, the Marvel movie's 156 minute run time will be cut down to 149 minutes. The censorship board's chairman, Ahmad Yani Basuki, confirmed that he signed off on the cuts, though he hasn't seen the film himself. He explained that since the film has their equivalent of a PG-13 rating, it must abide by guidelines concerning violent content that can be seen by underage audiences.
Also Read: 'Aven gers: Infinity War' Sets Sights on Monster $200 Million Opening in Early Tracking
Russo was asked about the censorship at a press conference for the film this weekend and said that he hadn't previously been aware that some countries were considering removing portions of the film.
"I can't image what seven minutes they would want to cut out of the movie," Russo said. "It's the first we're hearing of it so we're a little taken aback, but yes, of course as an artist you don't want anybody censoring anything or taking anything out of the film. This is a PG-13 movie, it's not like it's some radical piece of content so I'm a little shocked."
Also Read: Doctor Strange and Star-Lord Team Up: See New 'Avengers: Infinity War' Footage (Video)
This isn't the first time censorship in a Marvel film has made headlines. In India, audio from the battle between T'Challa and M'Baku in "Black Panther" was cu t out, as M'Baku cries out the name of the Hindu deity Hanuman.
"Avengers: Infinity War" will hit theaters in Indonesia on April 25, two days earlier than most countries worldwide. The film's original May 4 release in the U.S. was moved up a week to reduce the chance of spoilers.
10 Most Anticipated Movies of 2018, From 'Ocean's 8' to 'Avengers: Infinity War' (Photos)
Avengers, panthers and dinosaurs, oh my! It's another superhero heavy year ahead at the movies, with fans clamoring for the sequels and finales to some of the decade's biggest franchises. A survey of Fandango users gathered up the 10 most antici pated films of 2018. We can't wait!

10. "Ocean's 8" (June 8)

The female-fronted spinoff to "Ocean's 11" is as cool as can be, with an all-star cast of women leading another high-class caper. Sandra Bullock, Cate Blanchett, Anne Hathaway, Sarah Paulson, Helena Bonham Carter, Rihanna, Awkwafina and Mindy Kaling star. Watch the trailer here.

9. "X-Men: Dark Phoenix" (Nov. 2)

Fans have been itching for a film ada ptation of "The Dark Phoenix Saga" for ages, in which Jean Grey (Sophie Turner) is imbued with incredible powers that transforms her to Dark Phoenix. Jessica Chastain joins the cast of X-Men as the film's mysterious villain.

8. "A Wrinkle in Time" (March 9)

Ava DuVernay directs this extravagant fantasy and adventure about a trip through space and time to find a missing scientist. Reese Witherspoon, Oprah Winfrey, Mindy Kaling, Chris Pine, Gugu Mbatha-Raw, Michael Pena and Zach Galifianakis all star. Watch the trailer here.

7. "Fantastic Beasts: The Crimes of Grindelwald" (Nov. 16)

Part two of five in this prequel series in the Harry Potter universe finds Newt Scamander (Eddie Redmayne) teaming up with a young Albus Dumbledore (Jude Law) to battle the evil wizard Gellert Grindelwald (Johnny Depp). Check out new images from the film here.

6. "Incredibles 2" (June 15)

Fourteen years after Pixar's "The Incredibles," this super family is back on the job, with Elastigirl (Holly Hunter) taking more of a front and center role this time around. Check ou t the teaser here.

5. "Solo: A Star Wars Story" (May 25)

After a lot of headaches in the production that eventually led to Ron Howard taking the directing job, it seems fans won't mind following the "Star Wars" franchise to the summer and watching Alden Ehrenreich shoot first as the iconic Han Solo.

4. "Untitled Deadpool Sequel" (June 1)

Ryan Reynolds is strapping his spandex back on for the sequel to &quot ;Deadpool," which has added Josh Brolin as the villain Cable and "Atlanta" star Zazie Beetz as Domino.

3. "Jurassic World: Fallen Kingdom" (June 22)

Jeff Goldblum is back in the sequel to "Jurassic World," with Chris Pratt and Bryce Dallas Howard returning to Isla Nublar to rescue the dinosaurs that live there from being wiped out by an active volcano. Check out the trailer here.

2. "Black Panther" (Feb. 16)

The rare movie on this list to open this winter rather than in the summer, T'Challa of "Black Panther" first stole the show in "Captain America: Civil War." And "Creed" director Ryan Coogler has assembled an impressive cast of up-and-coming black actors including Chadwick Boseman, Michael B. Jordan, Lupita Nyong'o, Danai Gurira and Daniel Kaluuya.

1. "Avengers: Infinity War" (May 4)

Marvel has promised that "Infinity War" would finally start bring this chapter of the current crop of Avengers to a close and us her in a new era of heroes, and the initial trailer showcasing their fight with Thanos teases the grim stakes at hand.
1 of 11
A survey of Fandango users also listed sequels to "Deadpool" and "Jurassic World" among the list
Avengers, panthers and dinosaurs, oh my! It's another superhero heavy year ahead at the movies, with fans clamoring for the sequels and finales to some of the decade's biggest franchises. A survey of Fandango users gathered up the 10 most anticipated films of 2018. We can't wait!
Related Content
Source:
Google News
|
Berita 24 English